Workplace ergonomics
Ergonomics means the optimal construction of work equipment, furniture and working environment compared to the individual capabilities of the employees, and its target is to increase the level of laborefficiency. It is NOT limited to manual materials handling and creation of office workplaces only, actually, it relates to all workplaces where humans do any kind of work (e.g. from truck drivers to nurses).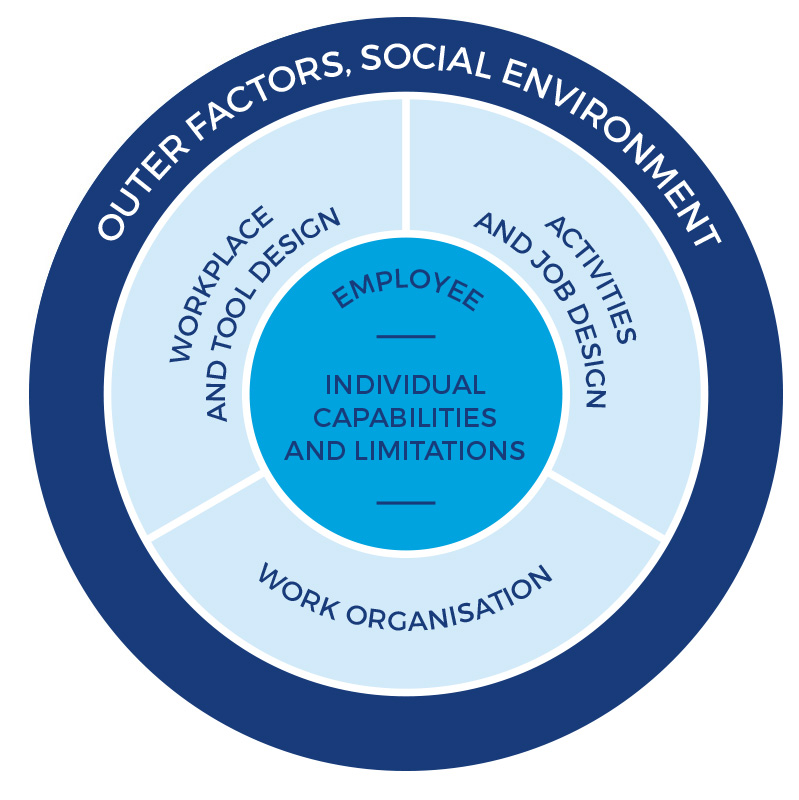 In ergonomics, the most important thesis is that humans do their jobs with high efficiency only when they feel physically optimal and they can do their work and develop themselves within their own barriers.
This is why ergonomics does not equal to general workplace safety. Ergonomic assessments are not limited to discovering the sources of danger exclusively, but it containsthe establishment of the root-causes of efficiency-decreasing, long and frequent sick-leaves and possible production lossesderiving from human barriers,as well.
After taking a part in several European campaigns and other applications, we are sure that in the ergonomics, the proper solutions are not only costly investments; sometimes the conversion of devices and equipment are also enough for increasing workplace effectiveness. Ergonomics is typically a field where LEAN tools and workplace safety may be joined.
How can an ergonomic consultant help you?
we carry out the ergonomic risk-assessment of your workplaces
we prepare a detailed ergonomic assessment of a certain workplace, then we analyze the process step by step
we give advice in the optimal implementation of workplace planning or conversion projects
we help you select the appropriate devices and equipment
for workplace designers or even for employeeswe organize trainings on workplace construction and fitness for use
Contact us, if…

you would like to receive a detailed ergonomic assessment which has been taken onthe workplaces of your site
you plan a workplace conversion, or an investment for improving workplace efficiency, and you would like to avoid costs on unnecessary devices
at a certain workplace you meet high rates of sick-leave and workplace demotivation of the employees
you would like to introduce efficiency-increasing LEAN tools while you do not wish to increase physical load on the employees.
Our successes and experiences
So as to find the proper solutions for complex ergonomic challenges, national and international trainings gave our colleagues appropriate theoretical and practical knowledge.
We drew up our own, detailed risk assessment methods, which help us discover work with display-screen equipment, manual material handling or repetitive movements, as well.  After a prior consultation,according to a typical risk of a certain workplace, the method of the assessment may be refined.
For several years, we have been continuously supporting the ergonomic conversion of the workplaces.Apart from the fact that these investments improved working conditions, we took part in applications and won prizes with them, as well.
Important!!!
Beyond ergonomic assessments, in proposed measures we are not able to work alone anymore, so it is essential to involve the manager, the engineer and the employee of the mentioned workplace.
According to the trends of workplace risk control in the past years, stress has become a new factor in workplace risk assessment, thus in the ergonomics, as well. If there is occasion, we consider attaching a workplace psychosocial risk assessment to the ergonomic risk assessment worthy.